As with Valiente, much of the waterline and topside cleaning will be done post launch

Today was a good day to paint, being both clement, if cool, and a day during which my long-suffering missus wasn't off
repairing some wayward creature
. The wear and tear from last year's "didn't move" time at dock meant only spot anti-fouling, zinc daubing and barrier coating was necessary, with only a bit to finish tomorrow if I can get paying work done tonight.
Mrs. Alchemy does the happy dance to appease the gods of two-part epoxy.
Meanwhile, I deployed our usual mooring lines and coiled down the "sling lines" so that the good ship Alchemy, once slung and aloft this Saturday, can be more or less (depending on the wind) maneuvered by line pullers on the ground. It's alarming and fascinating and often raining.
I'm getting a sense of remoteness here.
This is the latest fix in the Drive to Drive, '14. Before you is the freshly installed Remote Oil Filter Kit (engine end). For some reason unknown to the unmechanical such as myself, oil filters are usually spun on to threaded barbs which are bolted sideways into engine oil sumps (basically the pan in the bottom from where the oil is pumped, circulated and does its lubing and cooling thing).
Yes, like that. Thing is, if you spin off a filter in order to change it, about half the oil IN the filter will reliably pour OUT of the filter and into your bilges. Surprisingly, this doesn't service the pumps as well as one might think, although even a cup of oil can leave a kilometre-long slick in the water.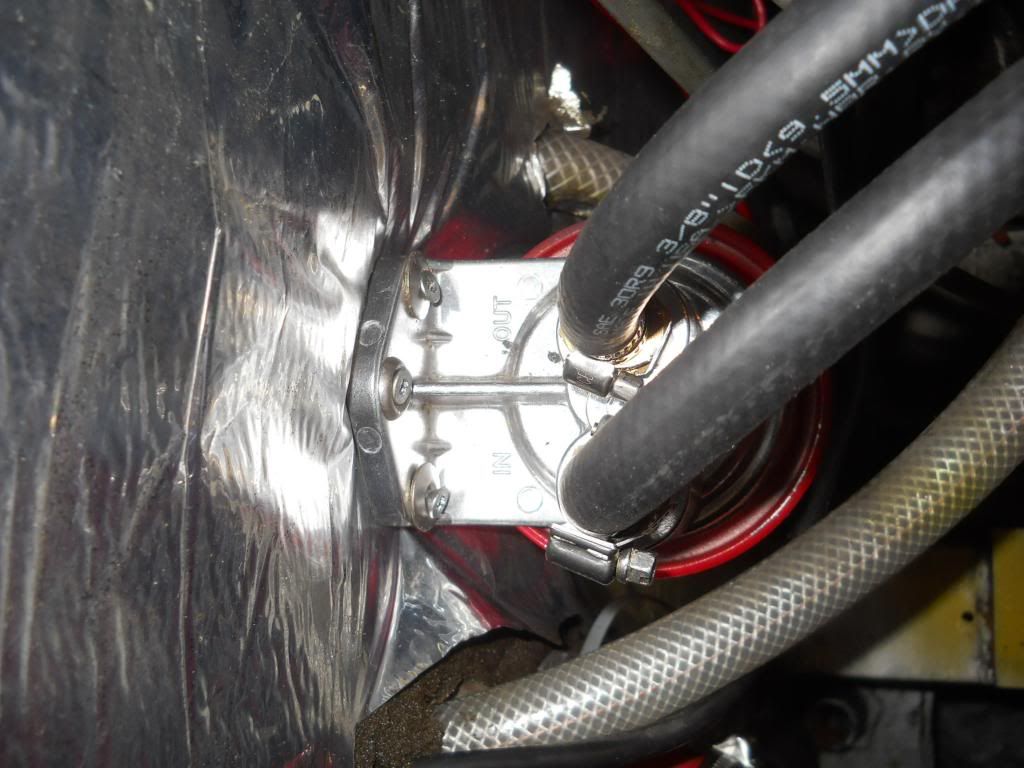 The length of the screws required meant I had to angle in the outboard ones. I try to have explanations for what appear to be mistakes.
The solution is to remove the filter from the engine and its problematic horizontal orientation, and to make it "remote" by mounting it vertically on the nearby bulkhead. Those wires and hoses will be tidied up a little later.
If I need to change a filter, I can do so without emptying the engine or spilling oil.
The total hose runs are about 28 inches, and the total "lift" required is about 12-13 inches. At the typical 50-75 psi diesel oil circuit pressure, this shouldn't be an issue, and yet the "top" of the oil circuit is still below the top of the engine itself.
If there is any spillage, it will tend to fall just to the right of that engine stringer, an area easily swabbed.
Onto other stuff tomorrow. The T-fitting for the dual exhaust hose setup is ordered.