The Ontario 32 Veleda IV at anchor. Photo (c) http://www.veledaiv.ca
You know, I've read that while hundreds of thousands of people cruise coastal waters and live aboard at dock or mooring, the number of people actively on passage (or preparing to do so) from a given area at any one time is quite low.
The Millards on
Veleda IV
ran into Ken and Lynn on
Silverheels III
(friends of ours who went a-Bahama-ing last September) as they were preparing to head to Chesapeake for the hurricane season. Ken and Lynn forwarded the Millards' call for crew to myself and Mrs.
Alchemy
, knowing we were looking for "real" sea hours for both the experience and to qualify for stuff like the RYA. As I've followed the
Millard's blog
on and off for years, and as Judy was once my dentist (more small worldliness), they were a semi-known quantity. They were also quite involved in the local Power Squadron, and Aubrey's ex-Navy, so they can be reasonably assumed to have a high degree of seamanship skills. It turns out that Judy damaged her knee falling off a Caribbean scooter, and while she got back to Toronto and a summer of healing all right, her husband needed crew to get their boat back to Canadian waters.
So it was a good fit. I would've gone myself had I not been working and had the delivery been a week later. But I understand that "a week later" at the beginning of hurricane season is
a throw of the dice
, and so my wife left May 31 in the dark for a somewhat haphazard series of increasingly "island time" flights to Eleuthera, Bahamas.
I think what can be learned from this for anyone seeking to be delivery crew is that crewing opportunities can arise quite quickly (particularly the juicy downwind ones with the Gulf Stream adding a few knots in the right direction!). One has to be flexible and should have a bag packed and one's papers/travel documents/inocculations must be in order. When the call came, my wife was unemployed at everything but being a mother and renovating the house for tenants (not minor in terms of work, mind you!), and I work from home, so we had the option with only minor adjustments to seize at these opportunities.
Others would have to schedule crewing during holidays or unpaid leave...this is less attractive, naturally. For us, it means the floors won't be redone until July...but that was well worth a thousand sea miles of experience in the Atlantic.
Well, it didn't quite turn out to be a due-north dash in the Gulf Stream for New York City, but such, it appears, are the ways of the sea.
After (eventually) getting to the boat in one piece, my wife awoke the next day to the beauty of the Bahamas, a place she's never been (nor have I):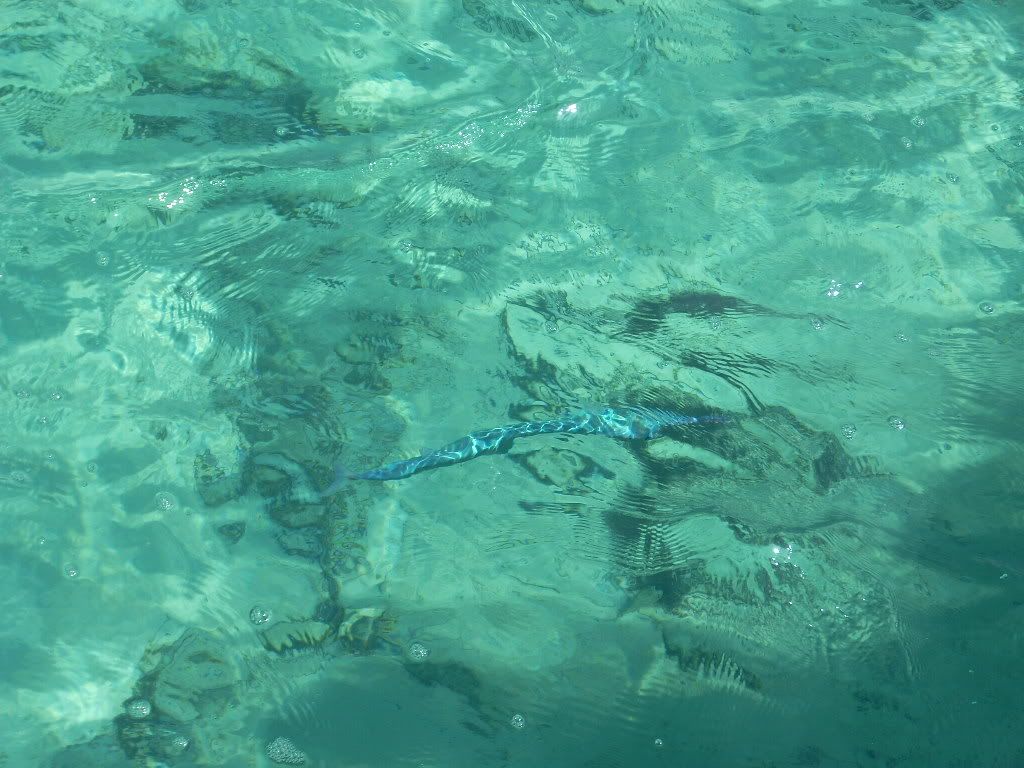 What is it? Dunno, but it's a nice shade of blue.
Now, S/V
Veleda
had been out for 11 years, and some of her bits and pieces are original (over 30 years). This becomes important later on. Just before the boat was going to jump off into the Atlantic, the boom broke due to corrosion at the boom bail. Undaunted, the skipper set course for Florida (and a new boom) under an assy spinnaker and a poled-out genny.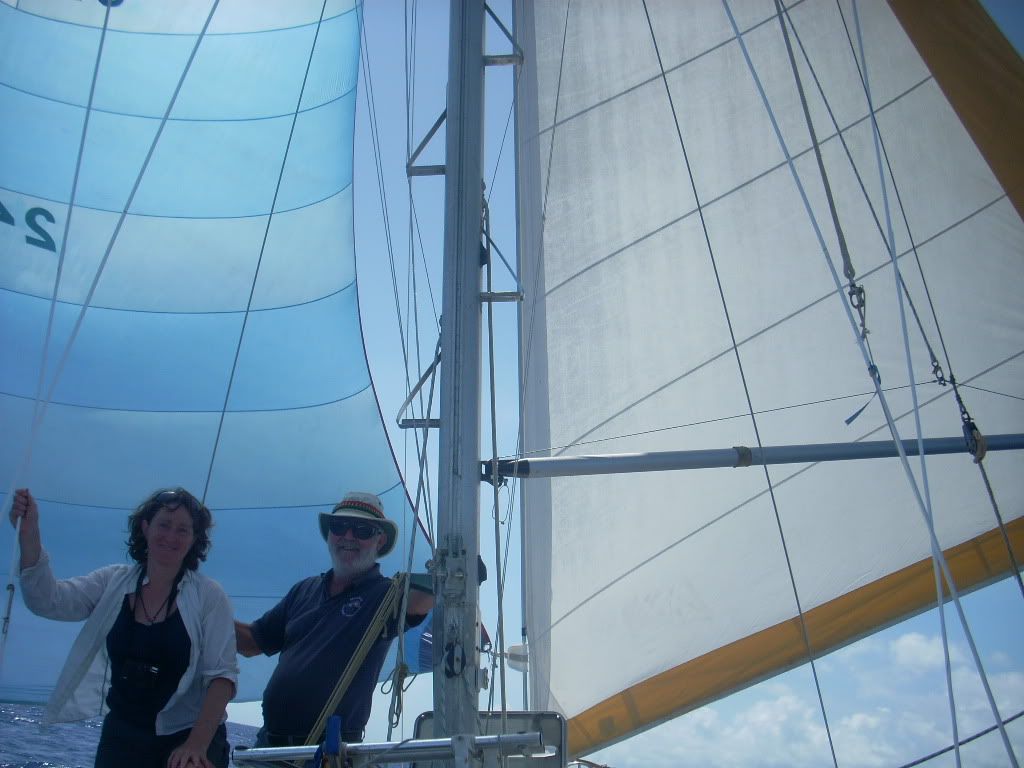 Crap to windward, but acceptable aft of it.
The three-day passage gave Becky (aka Mrs.
Alchemy
) plenty of watch-standing experience and the chance to see some of the typical Floridian summertime weather.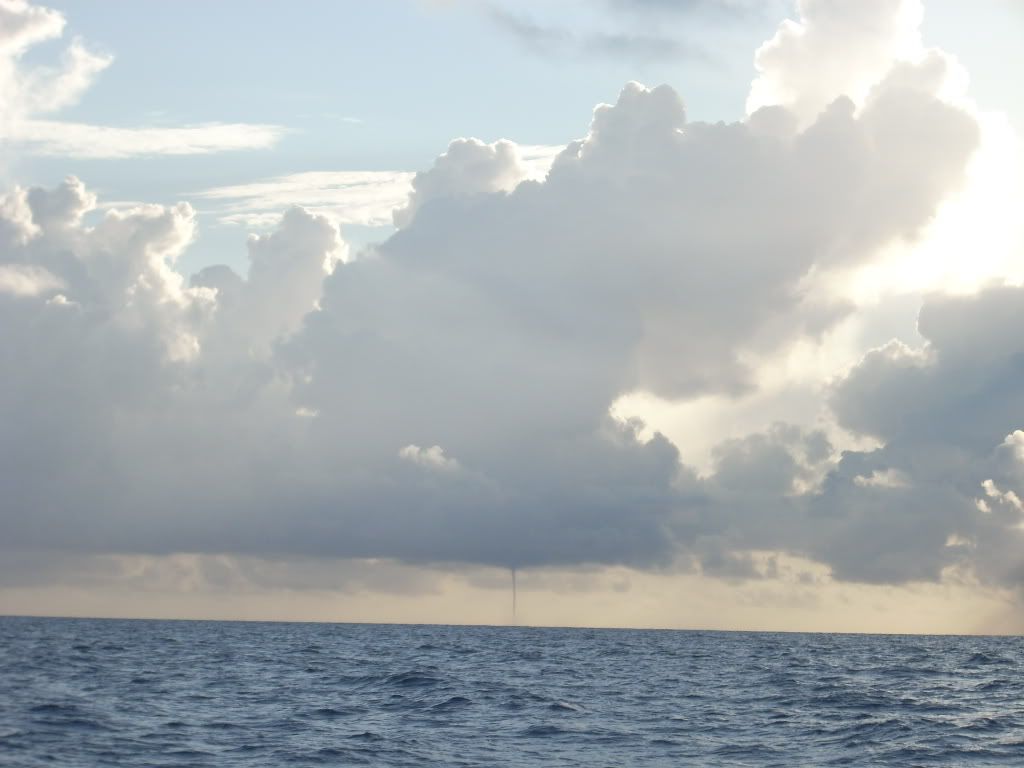 I've seen a single waterspiut. Apparently, they are a near-daily thing in this part of the sea.
After time spent in Florida waiting for the repair gods to smile upon their enterprise, they had the new boom "professionally" installed by a rigger who, finding their gooseneck slightly narrow, broke the casting.
So down went the uninstalled boom, lashed on deck, and up went the two headsails again for a trip north.
After that, the one-year-old fridge quit, and the bilge pump failed (turned out it was just clogged). Then the propshaft (a mere six years old) broke, killing all forward propulsion.
Chart capture (c) Wally Moran
Then the freighter came when they were engineless and becalmed...in the rather difficult approach to Charleston Harbour.
We're renaming this vessel "Bob".
But everyone (after a pricey "Sea-Tow") eventually made it into Charleston safe and sound. There
Veleda
sits, on the hard and awaiting some further repairs before heading for NYC and the Erie Canal in about a month's time.
I think the skipper needs some R and R from his "retirement"! He's back in Toronto now, but will get the boat back in the South Carolina waters shortly.
Becky learned a lot despite (or because of) some of the equipment mishaps, and found the whole experience of great benefit looking forward to our own trip. She also had few problems with crew rotation or standing watches (the lightning at night helped to keep her awake) and having seen some fairly swampy parts of Florida, the flashy montages of
CSI: Miami
are no longer persuasive.
So I encourage prospective world cruisers to crew, because your education will come in many forms, all of which will likely bear fruit in your own adventures.