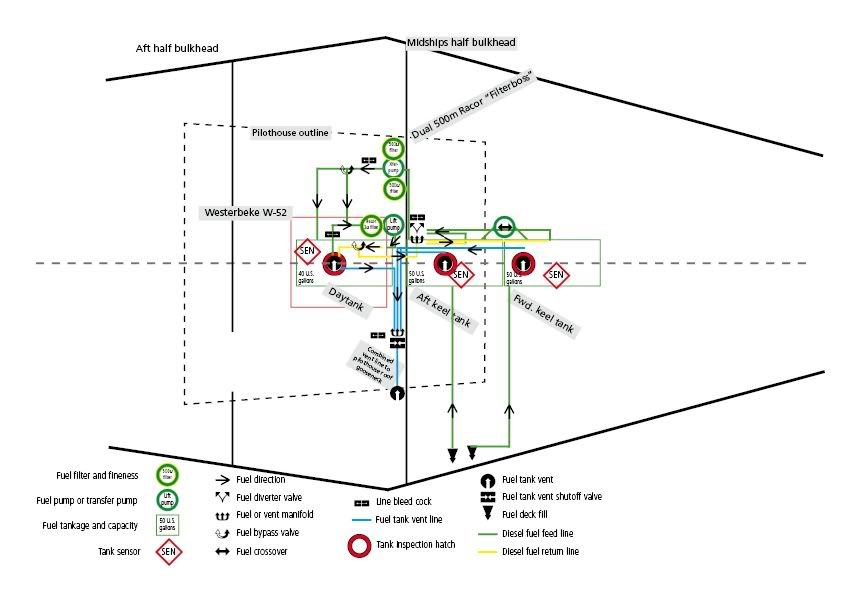 Another seemingly pointlessly complex drawing from my fevered brow, this is the proposed fuel system. For those not completely daunted by the graphics's "London Underground as conceived by a schizophrenic" qualities, this is, I hope, the way to fuel's paradise.
As recently noted, the engine is out and off to the clinic for "augmentations" of a sort. Beneath its sooty mass is a tank, allegedly a stainless steel former holding tank, that I propose to convert to a diesel day tank. What grim, ancient horrors await me when I unbolt that inspection hatch I leave to the reader's imagination, but something Lovecraftian wouldn't surprise me.
After that anticipated nastiness, and after a hospital-grade clean-up, I hope to plumb this tank to receive clean, nay sparkling, diesel fuel from the existing keel tanks via the "FilterBOSS" dual Racor filter/pump combo bought some time ago. The engine had to come out to get to the tank, and the water tanks have to come out to install the new, lower, longer tanks, and this will give me the room to bolt the FilterBOSS unit and several dozen feet of fuel and vent lines hither and, I dare say, yon.
Isn't boating
fun
?
Oh, and in the period between gutting the engine bay, rerouting most of the DC system, yanking out the exhaust system, hot water tank and painting the entire bay with soundproofing paint, I have to
1) fabricate a thrust bearing (My good friend Captain Matt has an excellent and reasonable lead on this job).
2) remove the rudder and pull the shaft out.
3) inspect and true the shaft and the stern gland, and replace or modify as necessary.
4) install the Aqua-Drive coupling and replace the existing motor mounts
And so on.
I am finding that boat modification and fitting out is like the notion of "punctuated evolution"...many pieces are assembled and yet nothing happens for what seems like geologic time...and then there is a sustained burst of change and one by one,
things happen.
I have to get the outside stuff involving the holes in the boat done by the end of April, because engine back in or not, I'm launching. I suspect a second year "on the hard" would tax the patience of the club executive more than even my own.
Although I must say one has lots of chit-chat standing 15 feet in the air on a stationary deck. "So when ya leavin'?" has passed the five-hundred mark...it's all I'm ever asked, and my answers are by the nature of the beast provisional and surrounded by occult juju and taboo.