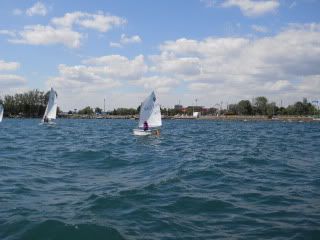 After my kid spent a couple of weeks in "sailing camp" (see hot Opti beam reaching action above), I decided in my skipperish wisdom that it was time to test the Incredible Nesting Dinghy,
Optimist Pram
.
I make no apologies for the vile pun, as it was geared to amuse a (then) seven-year-old boy.
Anyway, I spent a portion of an unseasonably hot afternoon assembling and rigging the dinghy, not really aided by my son's queries along the lines of "do you know who Captain America married?" and my own lack of memory as to how I did it the last time. Eventually, sweat and lucky guesses mostly prevailed.
Sorry to say, but I was, until yesterday, a dinghy virgin. I cannot tell a lie: instead of messing about in boats for a tender age (pun intended) in Optis, 420s, Lasers and finally something
really
tippy and squirrelly, I in fact never drove a boat until the age of 38 and my purchase of
Valiente
, a 33 footer of the mostly non-tippy kind.
As I didn't dare take cameras or cell phones aboard (dinghies are indeed tippy, something my son decided to talk about ceaselessly while we were out, I don't have "action" photos. Instead, this is the little boat, sails stripped and charmlessly parked aft of a garbage bin.
Yes, that's a lot of rig.


Dinghies are, well,
sensitive
. I haven't had this much trouble with the concept of feel since teenaged dating. Eventually, with my son on the helm and me pulling various ridiculously undersized strings (or so it seemed to Burly Sailing Dude), we tacked and gybed with reasonable efficacy.
Mostly reasonable.
More study and practice is needed. As this is supposed to be the "sports car" (with the Portabote as the "van") of the tender pair to the good ship
Alchemy
, we will need it. But yesterday was a good start: We didn't tumble in and we sailed back to the dinghy ramp unaided. The thing's still a heavy bastard to yank around a parking lot, though (note to self: Inflate cart tires!)