My last post arose out of a reply to a topic at
anything-sailing.com
regarding the revival of an old two-master as a light freighter. Chip,
a sailor out of Barnegat Bay, New Jersey
, with whom I've had the pleasure of hoisting a pint here in Toronto, more or less ran with the concept and came up with an "old school" advertisement for our entirely imaginary shipping sideline.
*Illegal will cost you more
I think it's freaking brilliant, especially the phrase "artisanal shipping" applied to small-scale, sail-powered transport of (arguably) hipster products.
Cheers, Chip! You gave me an audible laugh this morning and about a dozen graphics ideas.
UPDATE: Here's what I riffed into being after I found a few salty fonts: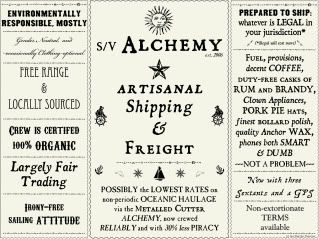 I couldn't ever ship PBR...the stuff is vile.