If one wheel is good, two must be better. I sense this setup is less about steering and more about creating a path to the stern on the centerline
Given the sheer volume of things I have yet to install on
Alchemy
, I don't really need to buy stuff at the
Boat Show
. But I have never failed to get comped tickets (I wouldn't otherwise go as I have a thing against paying for the privilege of shopping), and I usually get to speak with fabricators or technical types who can help me figure out things. I did so again to my profit (at least in terms of knowledge) this year. Besides, I collect my usual tranche of smallest-room reading in the form of marine supply catalogues. My idea of fun may be different than yours.
Chines: Cool, then not cool, are once again cool.
As I've noticed in recent years, there are fewer and more similar production sailboats and more powerboats. I find this baffling given the price of fuel, and, according to the staff of the chandlery where Mrs.
Alchemy
was working, the significantly fewer show attendees this year; they said visitors were down about 25%. Not that there weren't attractions:
the Pardeys
were across the aisle from my wife, who was selling stuff at
Genco
. Having seen the famous no-frills sailing couple in the flesh, I now know why they were happy in small full-keelers...they are
very
compact people.
Blonde salesperson optional.
I won't bore you with my crotchety dislike of modern production boats in terms of safety at sea. Nor will I dwell upon the likelihood of certain condoesque designs killing their owners through the miracle of convenience. I have to accept that the audience for such current vessels have different, sometimes significantly so, priorities than we do, and are not likely to be going far from home on their tiny-travellered (if that's a real word), high-sided, bow-thrustered show boats. Fair enough.
I have not read Cruising World in many years. I already know what a boat ad looks like.
I
did
like, however, the 40 footer Blue Jacket, which I presume is also named
Blue Jacket
. In many ways not readily apparent, I think, it was more boat than usually seen at an inland boat show.
Clearly, they are proud of their boat design.
This design by the former Tartan executive and designer
Tim Jackett
was for me the most, or perhaps only, compelling one I stepped aboard. The Blue Jacket marque is some sort of subsidiary of
Island Packet Yachts
, and their sturdy designs have found favour for many years in the cruising community. This design is a bit of a contrast to that in that it's clearly a bit of a rocket, more BMW than Buick.
That's certainly a Tartanesque price tag.
I found the boat better organized for offshore and, at under 12 and a half feet in beam, pretty lean for a modern boat. But the sail area is generous, the boat isn't overweight, and so a lively ride is likely.
Blue Jacket
is clearly a cruiser, but just as clearly,
there's less of the IP and more of the J-Boat in Mr. Jackett's lines
.
I wish winch sizes were standarized. They are not. I feel like carrying calipers.
Simple stuff, like adequate handholds and locking floor panels so often missing on other production boats, were on this design. I didn't get a picture of it, but the 4/0 battery cabling I found under a settee was overkill, even for me, with only a trio of Group 27 batteries making up the house bank (or at least, the parts I saw).
Cabin-top travellers and mid-boom sheeting seem endemic these days
Now, while I couldn't afford this boat, or would not, I suspect, find it suitable to my purposes, I can see where designs of this type, with its cleverness, like a saloon-spanning folding table (latched with a seized pin) and (interestingly) no bow thruster, would appeal to an adult sailor actually wanting to leave land behind. Let's face it, that's not many people in the final tally. Most people are island-hoppers in the sub- or actual tropics, and are rarely, if ever, spending more than a day or so on passage. So performance, in terms of knocking off a hour before you can mix sundowners, or in terms of "fun, fast sailing", commands a premium. Well-built performance? That'll cost extra.
Apparently, my auto-iris and auto-shutter aren't top-shelf.
Which brings me to a pet peeve.
Polished to "baby's backside" standards
Here's a representative production boat, a
Jeanneau Sun Odyssey 44 DS
. Goes for $300K.
Note the smooth hull. The hydrodynamically shaped saildrive. Ooh, slippery!
Would not a folding or feathering prop make sense here?
The glorious turn of the bilges! Oh, that's dead sexy.
It's French via Brazil.
This thing should glide in water when the winds are down to angel's fart speeds, right?
I will call my bow-thruster "Lumpy"
But wait...what's this?
I would hesitate to put something this half-assed and draggy on Alchemy, and raw speed is way down my list of must-haves.
Why, it's our old friend Mr. Bow-thruster, without which no modern skipper is apparently able to dock. Perhaps if one's pleasure barge wasn't 14 feet wide...but I digress. This is, to me, fairly appalling proof that the dollars required to make a smooth hull, and then to drill and glass in a "bowthruster tunnel" as was once the case, are too much when the prospect of gluing a cheapo tab would save a few more dollars. Sure, you can make the argument that a) bow thrusters break and it's easier to service them this way, and b) it's easier to make a mold that already has a semi-circular bite out of the bow. I'm sure that's true. But I'm equally sure it's a decision driven not by designers, or sailors, but by accountants and marketers. It looks foul to me. It looks like a hack, or a patch to mend damage until the real fix can be made. But no: This is deliberate.
I have no idea how this sort of kludge would be accounted for in club racing ratings.
A friend who's read this commented that he liked the Polish-built
Delphia 40.3
. In my rush to cast aspersions on the more popular production marques, I'd forgotten that I'd been aboard this boat briefly and found it more to my liking and generally less ticky-tacky than some others. So it wasn't just the pricy Blue Jacket I liked. The Delphia looked better able to handle its home European waters, and so it should have, if those
RCD Category A
certifications mean anything.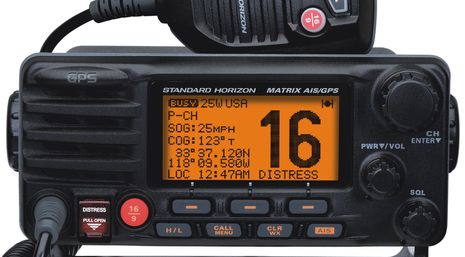 Drifting away from the nasty sailboat area, and in the end, I bought
one of these
:
Alchemy
's mast returns in the spring, and I need a proper DSC-capable base VHF for the pilothouse. While we plan on getting a Vesper unit as the "main" AIS, a receive-only backup (along with a GPS onboard, which I've used in my SH 850 handheld) right at the radio could be useful and prudent. Combined with a
RAM3 extension mic
to the outside helm (which will, I anticipate, be fairly sparse on the electronics otherwise), we should have our VHF needs well covered. I haven't even discussed the loudhailer.
About as close as he's gotten to swabbing the decks.
Lastly, my 12-year-old Lucas was with me, and was generally unimpressed, save for his curious attraction to the steam mop display. There will be plenty of opportunity for that offshore, kid!