As I've mentioned before, I'm on our club's Mooring Committee, for which I would prefer to do more, or maybe moor, but as I'm not retired, I can't do more than I can. But it gets done, regardless.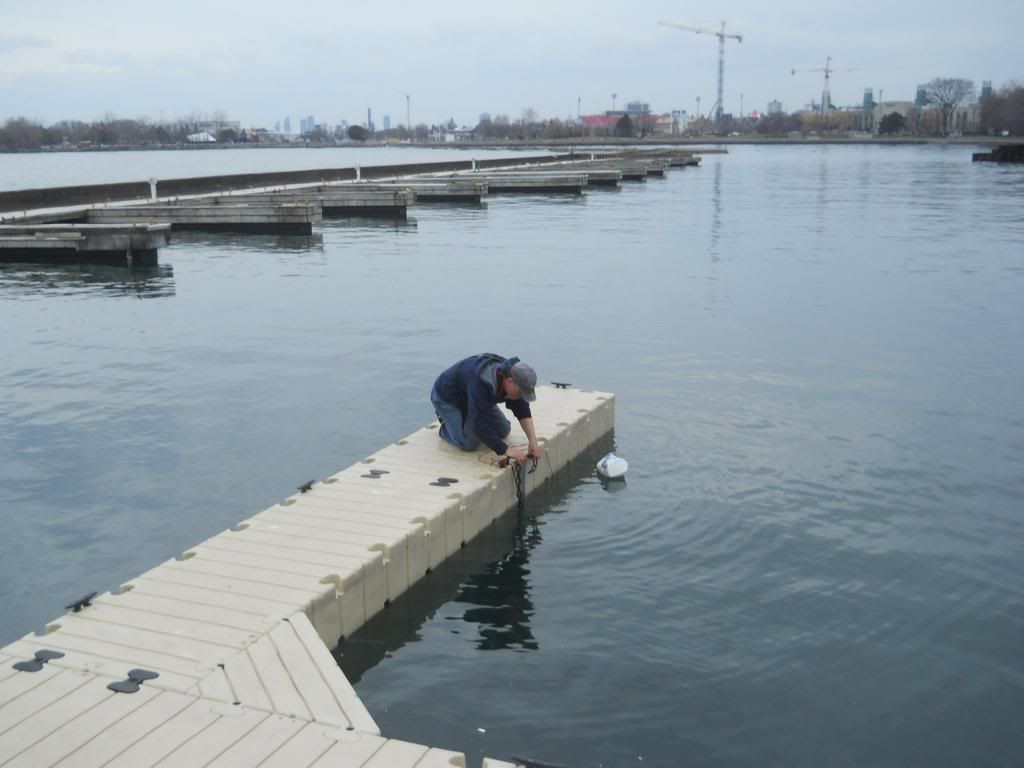 This is Malcolm. Sticking his hands in 3C water doesn't seem to bother him.
A Canadian boat club, with some rare exceptions, must defend its physical assets from the several months of winter we
endure
enjoy each year. This means hauling out those parts of the dock that would otherwise suffer from winds, waves and the never-gentle actions of ice.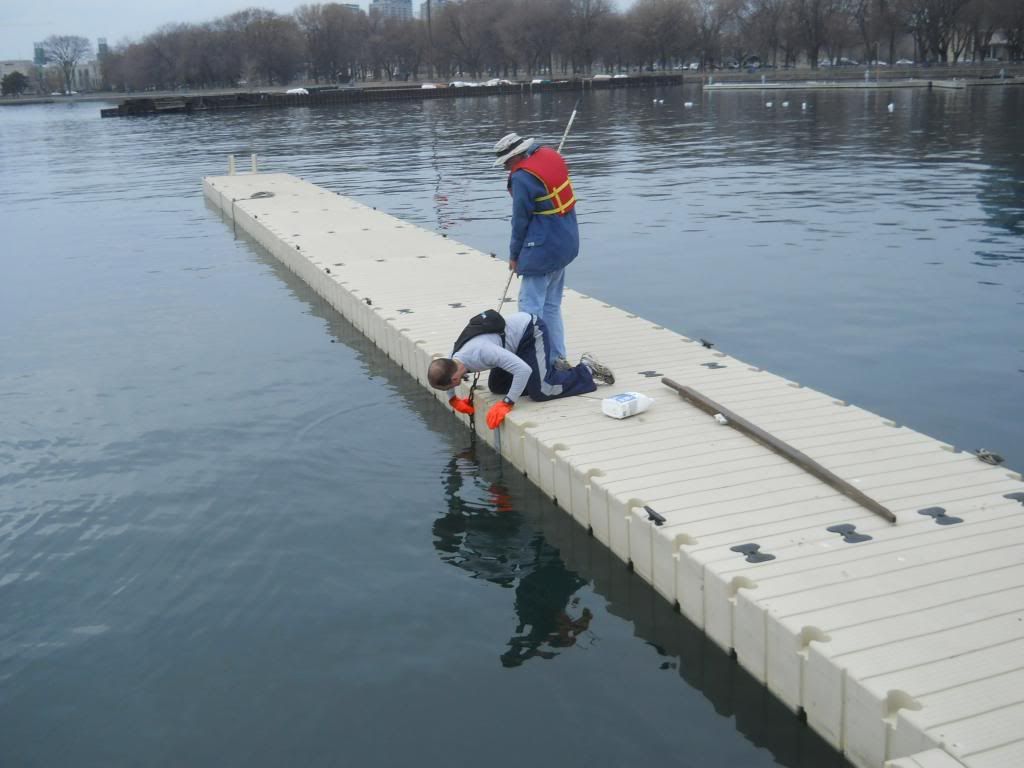 These plastic, Lego-like dock blocks only work when secured by chains left in over the winter.
So while the main wooden and steel cylinder and beam docks are handled by contractors, the dinghy docks and the moorings in the mooring field (as seen behind that breakwall "island" in the photo above) are maintained by the Mooring Committee. It's manly stuff, I tell you.
And like many manly things, one man works while three or four give helpful advice. Photo (c) C. Lahmer.
Because members of the Mooring Committee value thrift, we tend to opt for the rough-hewn fix over the buffed manufactured product. This is a removable vise and "tire hook" that can be mounted on the door of the work boat,
Storm King
. It makes it easier to secure a length of mooring chain to replace or mouse or tag a shackle, and keeps the actual "hands in freezing water" time a touch more manageable.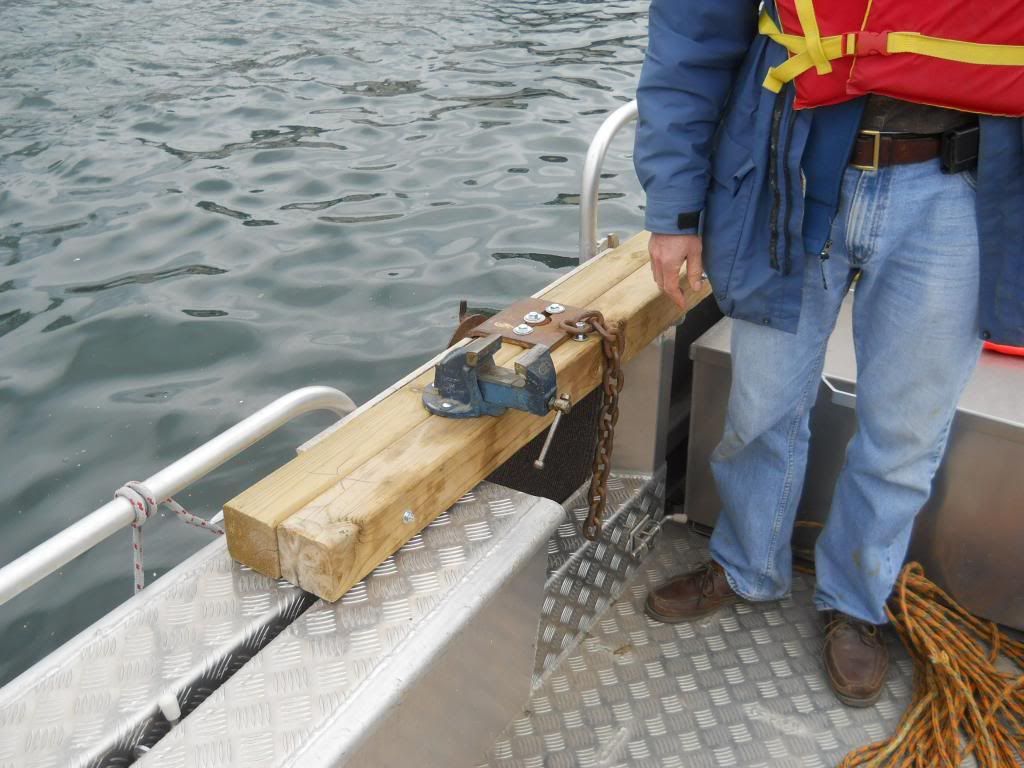 Keeping hands out of the water is key to keeping volunteers on the Mooring Committee, studies have concluded.
It's all in a day's work, as was yesterday's 2014 Club Boat Launch. Always a mixture of excitement (the sailing season is starting!) and dread (will it float? Will it start?
Will it plummet off the slings and end up on YouTube
?), a boat club's launch and haulout weekends can run the gamut of emotions, lapsed safety procedures and very marginal weather.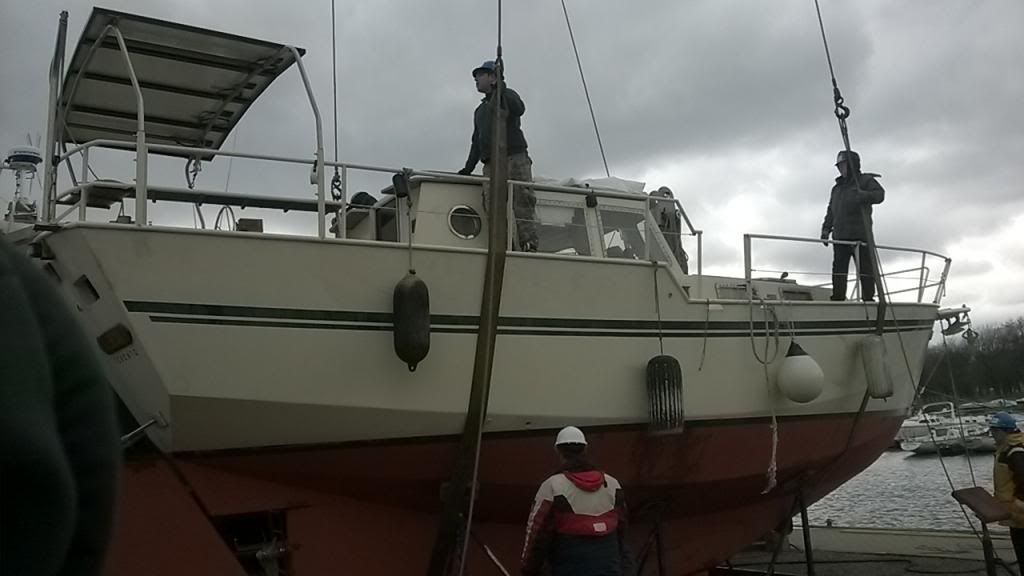 Last year's "Horrible Haulout" argued for a relocation of the "sling marks". Yr humble skipper did that prior to the Big Lift.
Well, it was mercifully merely chilly, and only fractionally rainy and windy, and my driving of a safety boat for the half of the club that gets launched onto the south side (as dictated by the reach of the cranes) went off relatively smoothly, being only spottily damp and hardly breezy, although our low profile may have helped us here.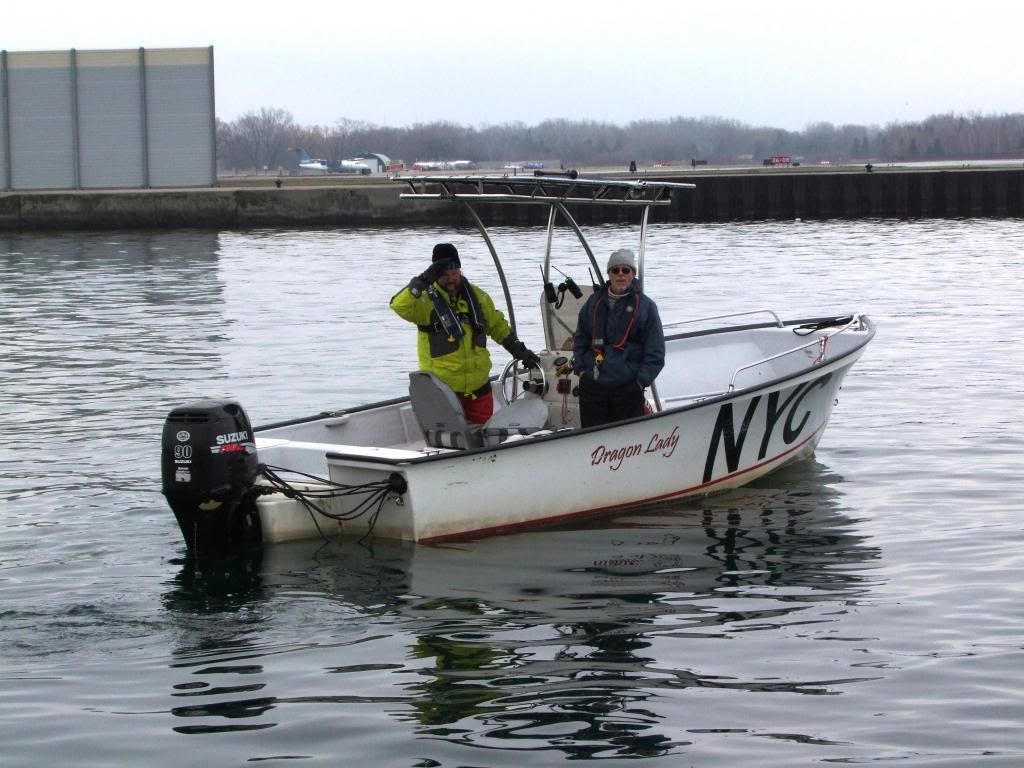 Your correspondent and the redoubtable Malcolm, allegedly on duty to pull your clumsy corpse dues-paying body from the murky waters. Photo (c) Don Williams
After a brief not-lunch, Mrs.
Alchemy
(who had been daubing last-minute anti-fouling on the hull and herself) found ourselves rather suddently at the front of the launch line.
Somewhere down here, there is just enough of a gap to push a sling through.
Due to the inexplicable absence of "sling notes" from the previous episode of steel boat suspension, there was a minor amount of futzing about to locate the right space through which to pass the aft sling. Mrs.
Alchemy
, being younger and considerably more compact than your correspondent, was a good fit for the dirty work.
Like threading a needle with thread that can support 25 tonnes.
We've reflected before on how relatively small shifts in onboard equipment or stores can change the sling points fairly significantly. Both slings are about 30 cm. forward from before the new engine went in.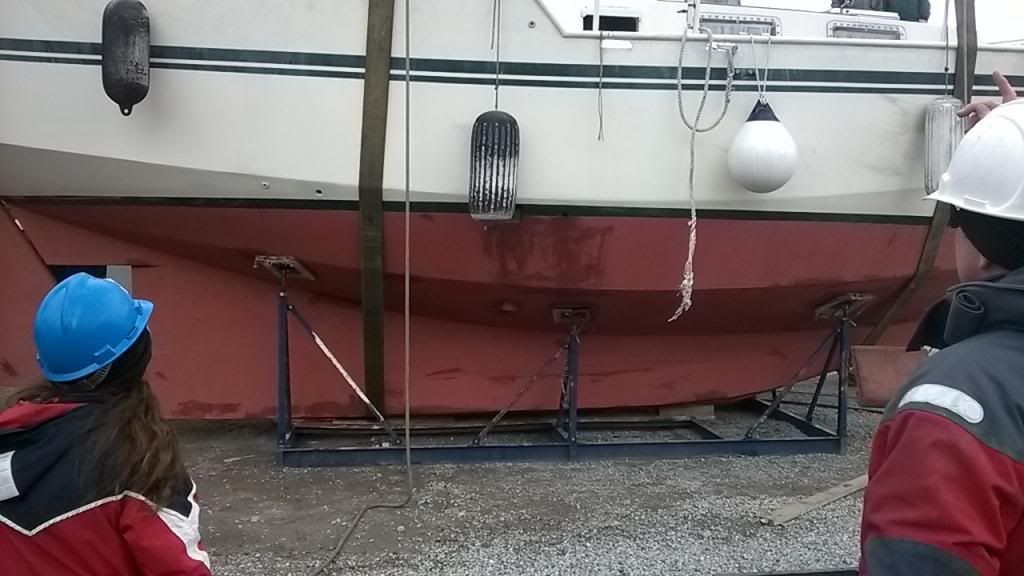 The old fenders didn't look so grubby until I got the God Balls.
It's also occasionally necessary, as the roster of volunteers in charge of slinging changes from year-to-year, that it's prudent on full keel hulls to rig "cinch belts" to keep the slings from shifting.
If this happens at sea, reduce sail. Note the cinch belt just above the staboard rail.
Several people not entirely in shot make this crane posture possible. The lines off bow and stern are used to rotate and move incrementally the boat while airborne, and there's half a dozen "pushers" at the sea wall with three-metre lengths of lumber fitted with carpet-covered pads at one end to keep the boat from scraping against the wall.
Like many a fine lady, some might say her stern is her best side.
Given the number of fenders I deploy, this isn't likely, but the crane operator can't always see how closely the boat is to the edge as the boat is slowly lowered, although if the drop is too close, there's usually a lot of incoherent yelling and gesticulation.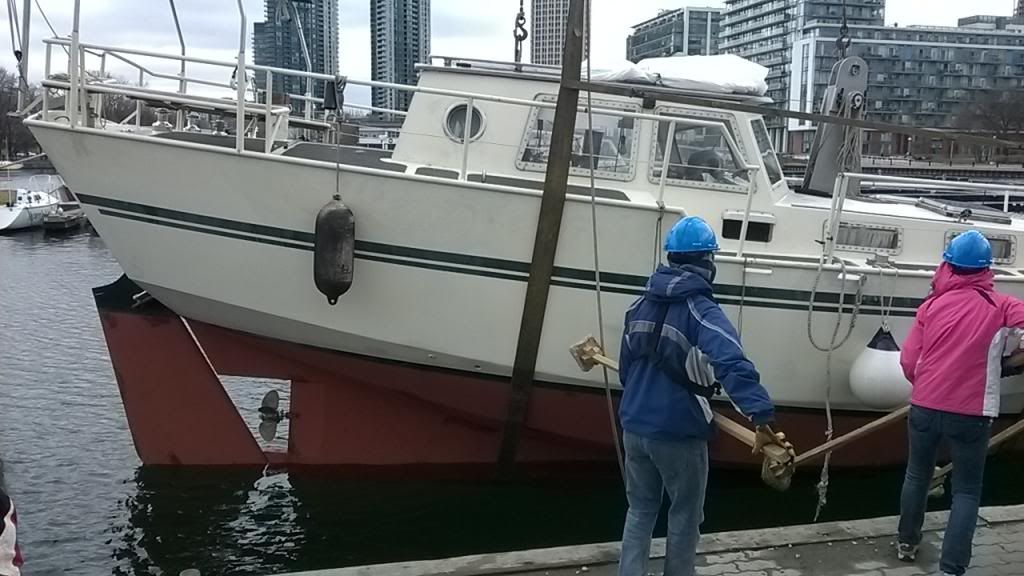 Oh, there are some pushers. I always look for unexpected bubbles at this stage. None observed.
And...we splash. It's arguable (and was pointed out by a helpful bystander) that a couple of shackles to lengthen the aft sling would allow a more level hoist. Something to remember for Haulout.
Nothing says "WORKING VESSEL" like a green plastic deck chair, I think. Photo (c) C. Lahmer.
The
still shiny club workboat, Storm King
, was then hailed for a tow, as I did not finish the engine revival in a timely fashion. It was this noble and still-on-warranty vessel that hauled us last fall, and the new driver was a touch nervous as
Alchemy
was the most massive of his tow jobs to that point. We took it slowly and made a nice touchdown on our customary slip, thanks to the kindly "line catchers". I think any transit of Alchemy possesses a sort of morbid fascination to people, because I am conscious of being observed when underway in a way that just doesn't happen when I'm noodling about in the far lower-to-the-water 33 footer.
Is it time to retire the very grubby "lucky mermaid"? Maybe to the interior of the boat, perhaps.
And so to bed, or dock. Reconstruction resumes shortly, and, if I can get a weather window, one remaining launch!