Beautiful, fast and sea-kindly, even in freshwater seas. Photo (c) 2011 Jeff Cooper
It's been a good run, but it's time to simplify our situation regarding the "one boat surplus".
Centrally located slip, as well. Talk to me, people.


1973 VIKING 33 Hull #32 FOR SALE
1973 Viking 33 in middle blue. I have owned her since 1999.
Atomic 4 engine rebuilt in 2006. Some 150 hours run time since then.
Stock 35 amp alternator. Coil replaced in 2012. A4 crank included.
Fuel system replaced in 2006. Water-fuel separator and raw basket filter.
Vetus waterlock with 2007 exhaust hose.
10 U.S. gallon Tempo fuel tank with 5/8" vent line, new in 2007.
Whale Gusher manual bilge pump with handle.
Whale Sub 650 electric bilge pump…needs servicing.
Guest 10 amp battery charger; 30 amp shore power circuit.
Traditional stuffing box, repacked 2013.
All original gate valve seacocks replaced with ballcock valves.
30 Imperial gallon holding tank.
Custom-built anchor roller adds about 15 inches to length overall (LOA).
A very useful addition.
Slip at Marina Quay West, Toronto is potentially available with the boat.
2015 cost: About $3,100 for the season.
Gori two-bladed folding prop 11.5 x 8.
I gained about a 1/2 knot when I installed this.
Most deck gear backed with custom-installed, quarter-inch aluminum plates.
Custom teak-mounted amidship cleats.
New wiring to batteries, new main battery switch and terminal blocks (2013).
2011 Garhauer triple-block mainsheet, newish 7/16th inch jib sheets and traveller control lines.
Full set of dock lines, plus "away" dock lines.
Danforth 22 lb. anchor and chain and rope rode (approx. 13 feet of chain and 150 feet of line). Hawsepipe opening with SS hinged lid. Barlow 26 primaries and Barlow 20 secondaries, well maintained.
I like labels.
New folding boarding ladder 2013.
Run for the boarder.
Electro Systems propane/gas sniffer.
Legal complement of flares and extinguishers.
Heaving rope, elderly LifeSling.
Standing rigging (1/4 inch 7 x 19 SS wire) fully replaced in 2013 via Genco Marine, Toronto.
Yes, she's fast.
Extensive sailing and engine spares inventory.
Many spares available. Thorough maintenance logs available.
Custom light blue fitted cockpit cushions.
Six-pad Marine Cradle Shop cradle. Custom-made Quinte Canvas tarp frame...needs replacement tarp.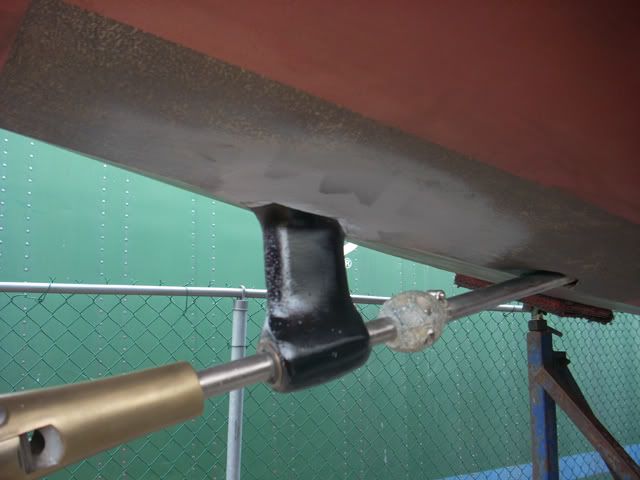 This needed a touch of fairing forward of the strut. There was no structural issue or misalignment.
There is a saloon table aboard and a new table support base, but as we don't use the table, I haven't installed it.
Sails: the main is relatively new Dacron and there are a wide variety of "less old" sails that will come with it. Quite frankly, I've got a lot of sails "in reserve" hanging in my garage. I have things like lightly used Mylar No. 1 and 2s in the garage off a C&C 34 (Aristo out of NYC) that can be converted to hank-on for about $150/sail. I've done this with the Kevlar/Mylar No. 1 and a previous main, but the current composite No. 1 is getting a bit tatty. We carry a No. 1, 2 and 3.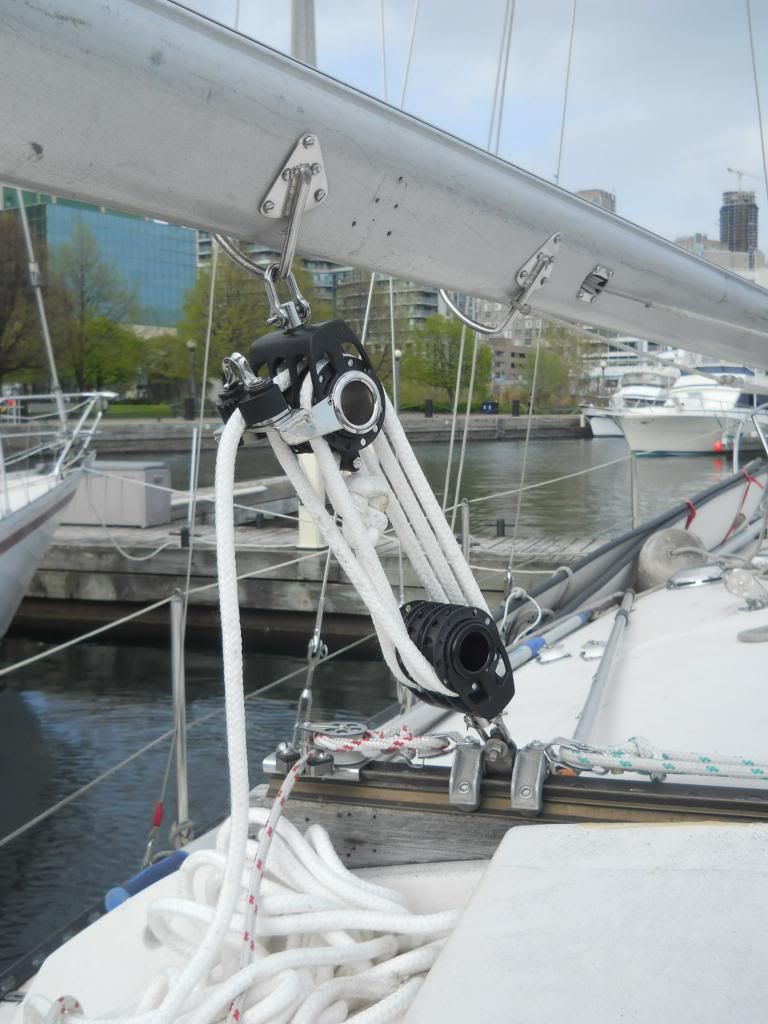 And we like serious gear.
Keel fairing repair, 2010:
Items not included in the sale: Triton asymmetrical chute, foredeck whisker pole, Fortress FX-23 anchor and rode, 10 foot Portabote, and the sailing repair box, the "crash box", the camp stove and all tools and personal effects. The customary big bag of "make us legel" keyhole foam life vests can stay. They make good headrests
I would also throw in some Atomic 4 spares as I wouldn't be needing them anymore, including extensive documentation, some gaskets, various pumps and belts, the stock alternator and so on.
If the interested party is in Toronto, it may be possible to "inherit" my 30-foot slip at Marina Quay West, which I would think is a big incentive, unless they really want to be in a yacht club.
Price: Make an offer!
Price is an exceptionally good $7,000 Can

adian.
The main downsides are the original upholstery, which looks worn and is plaid, and the fact that Valiente needs a redo of the ITT Brydon head, because we essentially just day sail her. So while there's not a lot in the way of amenities...she just sails really well.
Frankly, if I could bag this boat and retrieve it when we return, I would, because I believe it's a really good, fast, strong and capable boat for sailing around the Great Lakes.
Interested parties are welcome to search my blog www.alchemy2009.blogspot.com for posts on "Valiente"; there are records of the many fixes I've made in the last few years, because I've done them on Valiente first before doing them on Alchemy.