While both myself and my wife need to acquire salt-water sea time before we depart (as crew, probably on deliveries...more on that later), we aren't entirely new to the sailing game.
After adventures in the dot.com world of the late '90s, I unexpectedly fell prey to a management change and lost my job. This wasn't the tragedy it might have been, as I also had a pretty decent freelance designer and writing business on which to fall back. And the compensation, or "go away and shut up" money was generous, so much so that instead of doing the sensible thing of someone rounding middle age might do, such as buying a mini-van or paying 9.2% of the remaining mortgage, I bought an old sailboat.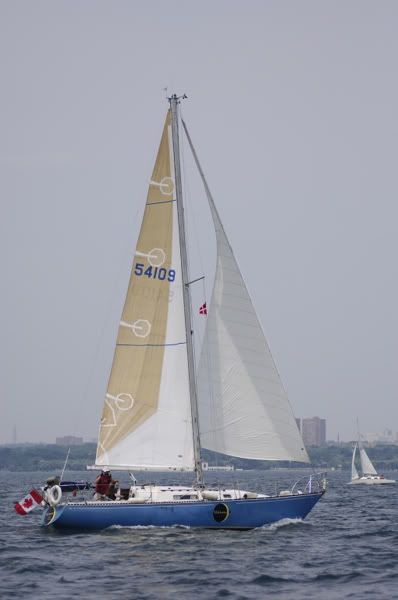 This is
Valiente
, a 1973 Viking 33 cruiser-racer built by Ontario Yachts. I bought her with my "compensation" on August 31, 1999. The next day, we learned of the death of Doreen Valiente, a British author my wife and I admired. Add to that the fact that Valiente is Spanish for "brave" and also is easily understood over the radio, and the choice of name was easy.
This boat, while a year older than the missus, is quite fast and is strongly built. I've had her out in 40 knots of wind, and we've cruised Lake Ontario in October in 25-32 knots of steady breeze with a four-year-old on board, so we've had some experience.
I had, purely due to my own mechanical ignorance, some engine problems that led to replacement of
Valiente
's "Atomic 4" gas engine in 2005. I eventually figured out that the exhaust system, and not the engine, was at fault, and replaced that as well. I also hit on the idea of "recycling" modern sails from racers, who will frequently find minor flaws in a sail used to race that won't bother the economy minded cruiser.
So by 2005, I had an old boat with a rebuilt engine, refreshed sails, a new fuel tank, new exhaust system, new batteries and several modifications only of interest to the obsessive-compulsive sailor.
So naturally, we got
Alchemy
and the process began all over again, although with the new boat (1988), there is much less to redo and undo than on the old.
Still, the fact remains: I own two boats, and yet am not twins. More on how I'm trying to resolve this embarrassment of nautical riches in the next post.