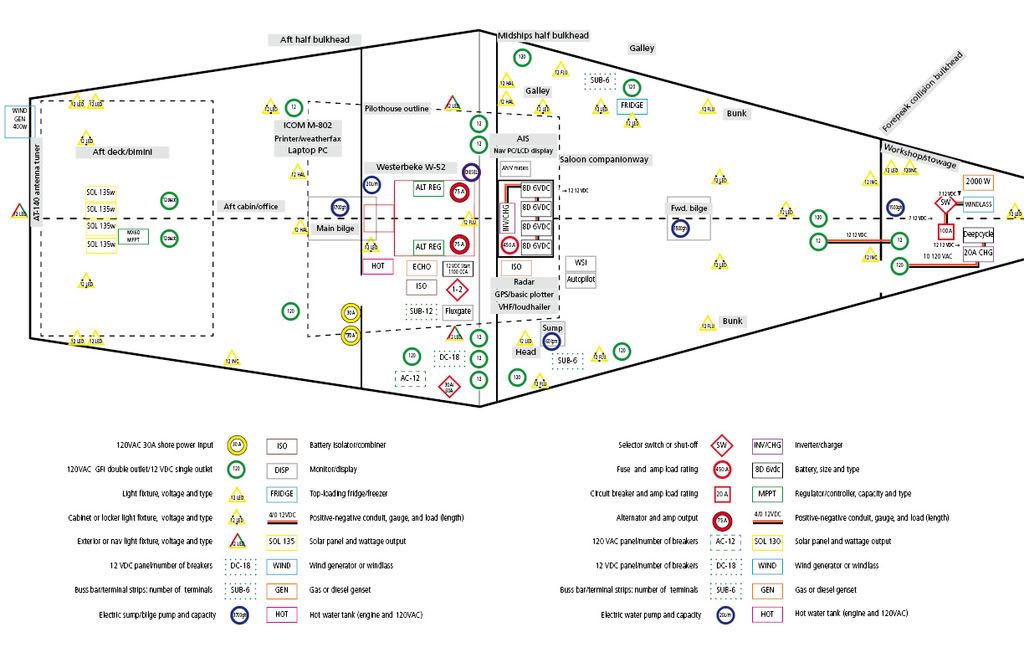 Funny how plans evolve. Above see the latest iteration of "
mein elektromechanischer Rahmenplan",
because everything involving monomania and solder sounds better in German, I think. Note that despite the superficial similarity to the charmingly naive schematic of some months ago, the needless complexity and verminous profusion of self-referential symbols, colours and lines continues apace, creating an almost cuneiform effect of bafflement and dire foreboding.
Really, this diagram is a
help
. No, I'm not kidding. Our goal is to run more or less self-sufficiently with a minimum of noise and exhaust apart from that caused by unfamiliar, local foods. This is why we have various devices to
create
electricity (wind, solar and small generator, in addition to the usual alternator on a diesel...the part we want to avoid using unless we are actively moving the boat under power); to
regulate
electricity (various devices to turn loads of volts into the number and amperage batteries will accept); to
measure
electricity (so we are aware of both production and consumption and can spot shortfalls at either end); and to
store
electricity (in the form of a honking great bank of stolid batteries weighing in at several hundred kilos).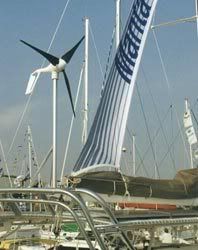 Now this thingie is an Air-X Marine 400, a smallish wind generator as seen in its unnatural environment of a dock. I picked it up still in its original packing at a local yard sale thanks to the alert eyes of a fellow cruiser preparing to head south. Captain Ken Goodings, we salute you!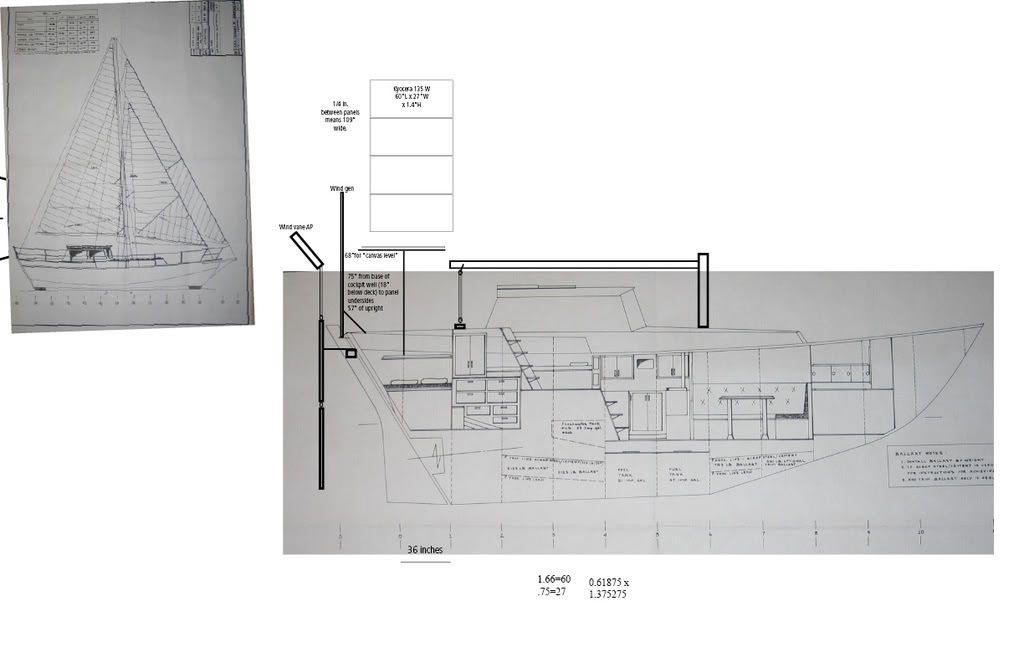 This is where the wind generator and solar panels will go. I am going to have made a sort of bimini-arch that will support a small amount of cloth by way of a sun and rain shield (there's not a lot of cockpit to cover on the aft deck) but mainly will carry four135 watt solar panels, running about five feet long and nine feet wide. All this has to avoid the wind generator and the wind vane and the crew. The solar panels paradoxically will provide the largest area of shade on deck, unless we deploy big awnings in quiet anchorages. But mainly, they and the wind generator will keep about 840 amp-hours of golf-cart batteries filled with yummy sparks that will keep me in ice cubes for my end-of-day, self-congratulatory rum-based beverages.
Ignore the visual crudeness...those are real numbers, all to scale.