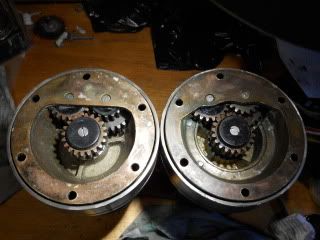 I recently received a pair of vintage winches, Lewmar 44 ST (self-tailing) Ocean Wave models from the '90s. I purchased them for $200 each from a fellow sailor on
anything-sailing.com
on the assumption that they had never seen salt water, and having now stripped, serviced and getting them going clackity-clack in a proper fashion (I have to earn the rum around here), I believe that they haven't been soaked in brine and will find a nice home as "backups".
Helpful when pulling to pieces.
Curiously, they have slightly different guts, although they are identical on the outside. The one on the right has some sort of two-part base with a kind of internal sleeve for the central post...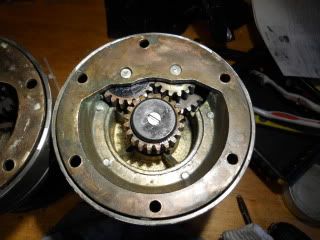 ...whereas the one on the left has a solid casting.
Anyway, they are built like tanks and show wear only in some superficial scratches and dings in the chrome. They will probably go on
Alchemy
as secondaries for drogue or warp use, towing or "big air" downwind stuff like running twins and will be mounted behind the current Anderson 40 primaries and Anderson 28 secondaries. The Andersen 40s are sized the same as these 44s...winch sizing is an arcane and arbitrary thing. Spares are still available, and I received, happily,
full documentation
.
I think this deal is almost as good as the
$200 80-pound used CQR anchor
my fellow sailor Maria P. scored down in Mexico last week:
Likely off for a short cruise next week. Frankly, we need the practice.