I had, with a sailing pal, my last sail of the season today. November 4 in Toronto is quite late as most local boats are hauled for the winter and demasted, winterized, etc., as the night temperatures can go below 0C. I am hauling next Wednesday as freezing isn't expected, so I took the boat out today.
So the last sail of my season was, somewhat unexpectedly due to the honking great high pressure system above Lake Ontario, a bit of a howler. I saw close to 20 knots apparent with nonetheless flat seas because all the wind was coming off the land and was weirdly gusty, probably due to urban heating. The 24 hour Toronto Island record said "8 kilometres of wind, gusting 30".
Well, try and pick a sail for that. We were either crawling under a full main and a No. 2 or we were on our ears at 30 degrees over. Great, technical sailing, however. I was able to luff way up into the wind during the puffs, as the whole "apparent wind" thing was obvious: as we picked up speed, I could steer 20 degrees to windward and thus reduce the number of tacks I had to make the channel to Toronto's inner harbour.
But I insisted, as I rarely do, that we and my pal both wear PFDs. There was NO ONE on the lake except us (not surprising at the air temperature was 8 C despite the full sun). The water's about 9C, I guess, having had a few drops and splashes land on me from the bow. The fact is that even a fit person could be "shocked" into a daze or unconsciousness if they fell in, never mind get hauled out, and the weird, gusty wind meant the boat was getting headed constantly and heeling very rapidly without much warning from the sea state.
I don't always wear a PFD in the summer, but spring and fall I do pretty religiously. I haven't seen a need to wear a tether on Lake Ontario, but I have several aboard, and I sure as hell wouldn't be typing this had I not been wearing on on the Atlantic Ocean in 40 knots of "surprise" wind in the middle of the night.
Now, I think the type of tether, and more importantly, the ease with which one can release from a D-ring, is up for debate, but not the use of a tether at all. That's like saying you don't use a seatbelt because you can never find the damn big red square button on the latch mechanism.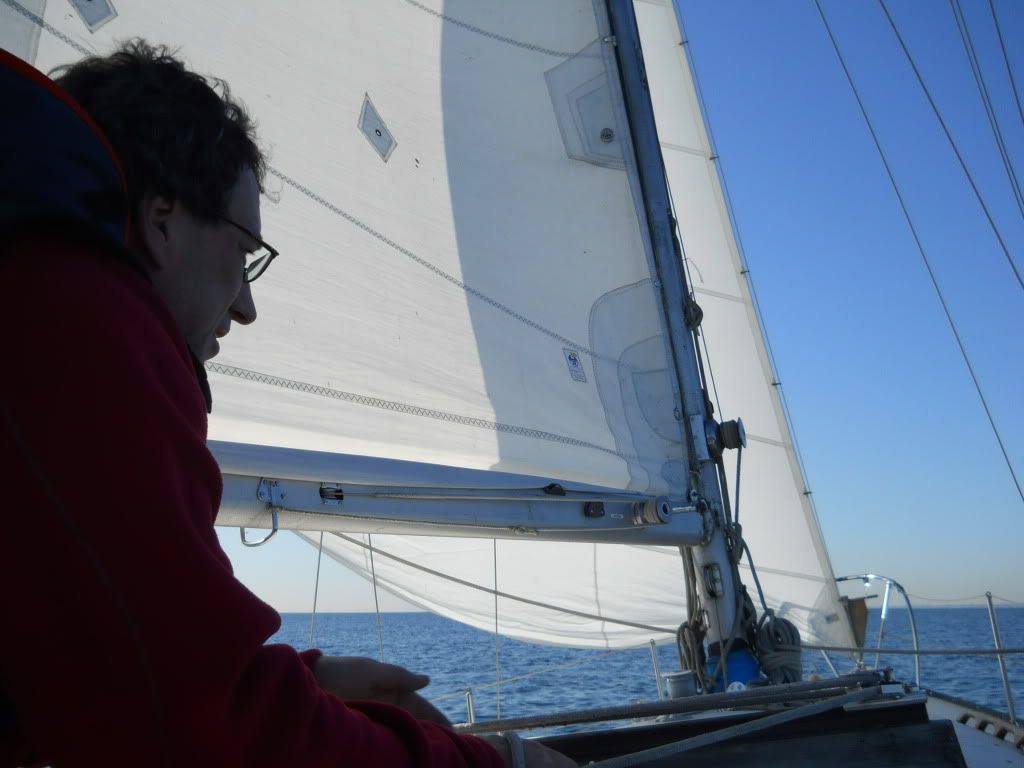 Sailing buddy Jeff says "bah!" to the tether proposition
Anyway, here's some pictures. As mentioned, I was ably accompanied by Jeff Cooper, a man who sailed a great deal many years ago, stopped for a couple of decades, and is rediscovering his love of sailing. So having him aboard is a treat, because all my gear is about 40 years old and therefore he's used to seeing blocks without Torlon bearings or (gasp) winches that merely winch, and do not self-tail!
The start was unpromising, if coolly pleasant. The wind off the land was from due North with a bit of East trying to manifest, but the high pressure and the land station speed of a solid six knots did not promise much in the way of excitement.
Still, north wind in Toronto means "flat sea", and a similarly brisk air and water temperature meant no fog. But because I've been fooled before in the autumn, I opted for a full hoist in the main and the old No. 2 genoa, even though the No. 1 was requested. I had a feeling.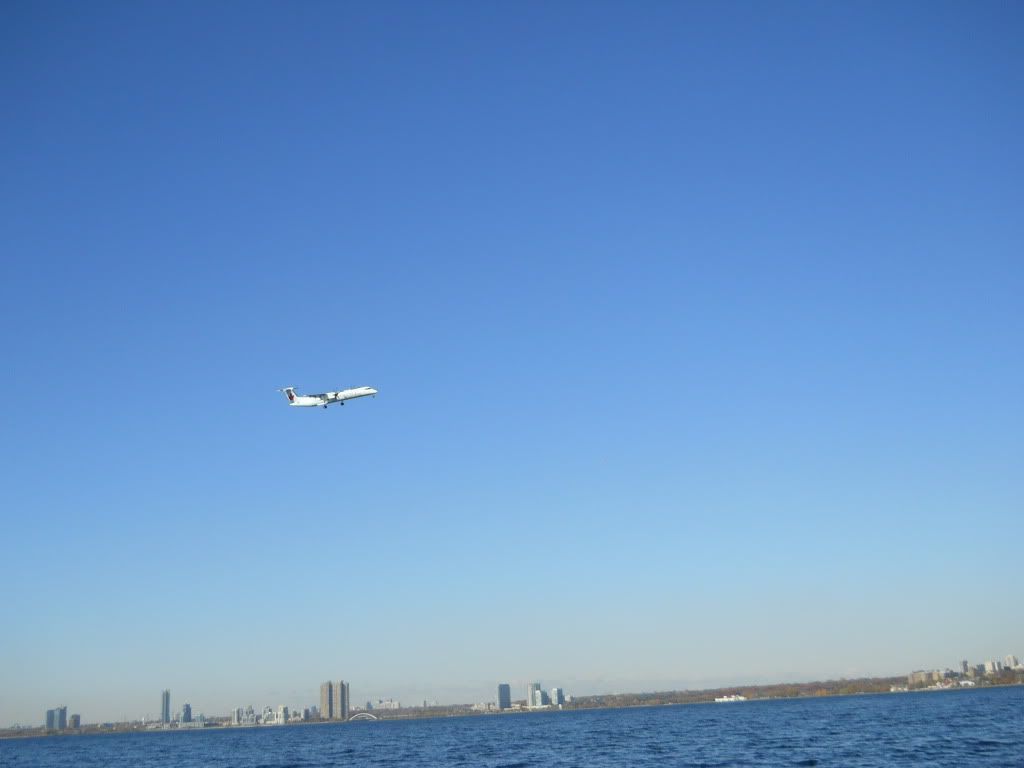 Said feeling might have arisen from watching the incessant turboprop commuter planes that blight the waterfront. They were landing in an obvious cross-wind, jinking and crabbing with intent into the wind.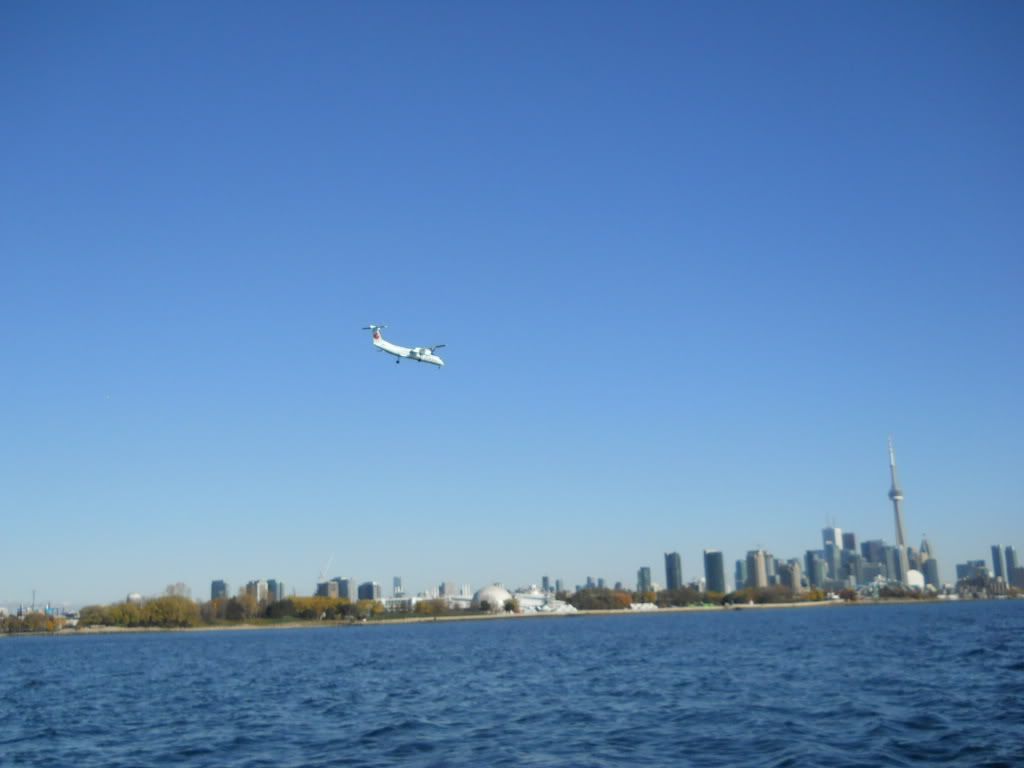 Judging by the offbeat landing approach (whoops!), there was more than six knots of wind overhead. So we eased off and headed south around the front of Toronto Island to find it.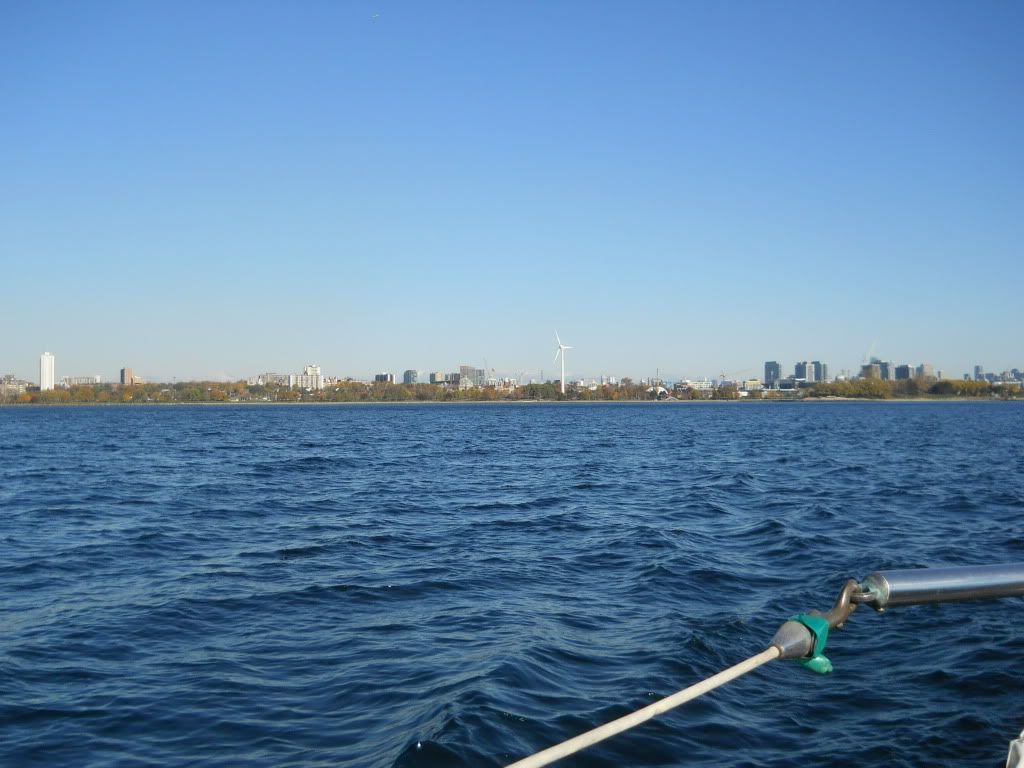 Of course, you see a lot of nature from a sailboat, particularly when you have the entirety of the water to yourselves. We saw no other boats out on the Lake, not cops, nor fishermen, nor commercial traffic. We both noticed, however, that the leaves were hanging on the branches very late. Some are still in the process of turning red, orange or yellow.
We found a hatful of wind, 15 pushing 20 knots apparent (apparent in the sense that I apparently had a bit too much sail up at points) as we barrelled around the point and "laid her down" heading for the Leslie Street Spit. Too busy sailing in a fairly technical fashion to take shots (this is the part where the nearby weather station was recording "N8, gusting 30", which sums it up for people who know a header as something other than a soccer move), we still saw a flock of what I think were
bufflehead ducks
fishing in the lake.
After a brief consideration of how close I should run into the beach on the Spit in order to make the Eastern Gap in one tack (because I hate tacking in channels, even when empty of boats), we transited Toronto Harbour and speculated how many eyes in the towers of finance and condos of glass were on us as we gracefully returned to home base.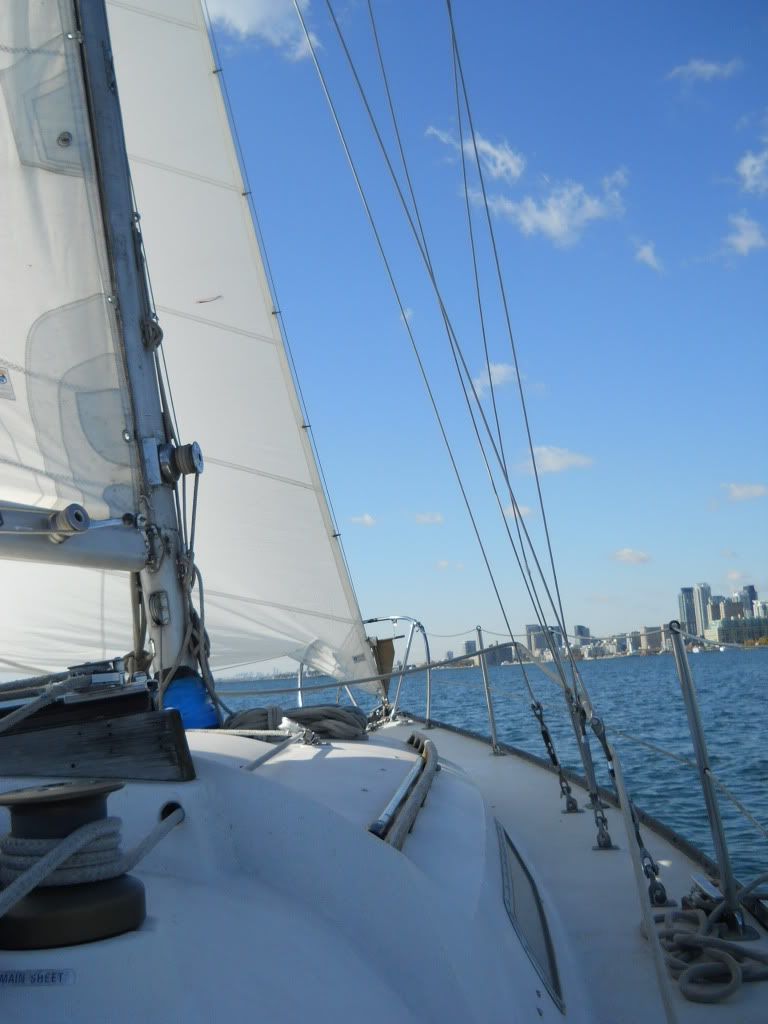 Some grace was jeopardized while we removed..and then retied...a debris boom from the entrance to my marina. Obviously, they are going into "pure liveaboard" mode, and it's time I hauled out before something freezes. Ever try to hold a boat still while essentially untying a gate? There's no pictures of that, either. Too busy trying to keep the boat off the wall and the crew out of the water.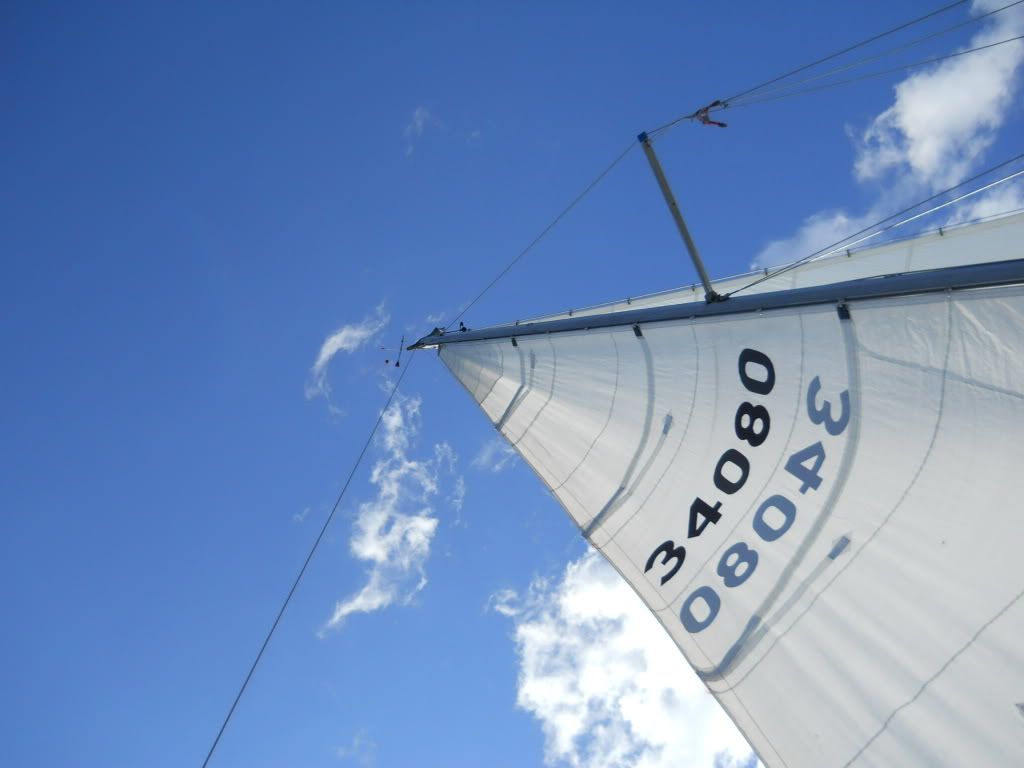 It was, nonetheless, one of the best days of sailing both Jeff and I agreed that we've ever had. So long, 2011.