There's been further progress on the drivetrain installation, but I'll hold off a bit on a further update until the beads cool off and the Loc-Tite is dry. In the meantime, as I am again spending it, let's discuss money, something that is like a little grey squall line in the minds of most refitters or cruisers-in-waiting.
One of the pertinent things people considering a boat refit want to grasp is the cost and the time commitment. While posting recently on
a fellow refitter's excellent site
(which I like because he is clearly more fastidious and skilled than I am, so I get to see the right approach early), I answered one of his reader's queries with perhaps more detail than I had intended, but it got me to actually think of a rough tally of what I have spent and anticipate spending.
Of course, any numbers are only representative of our wants and needs in a pretty unrepresentative (steel motorsailer custom-built for passagemaking and independence from shore) pleasure craft compared to most others available used, and almost all boats, save for the often-French aluminum monos of the
Jimmy Cornell
-endorsed expedition type.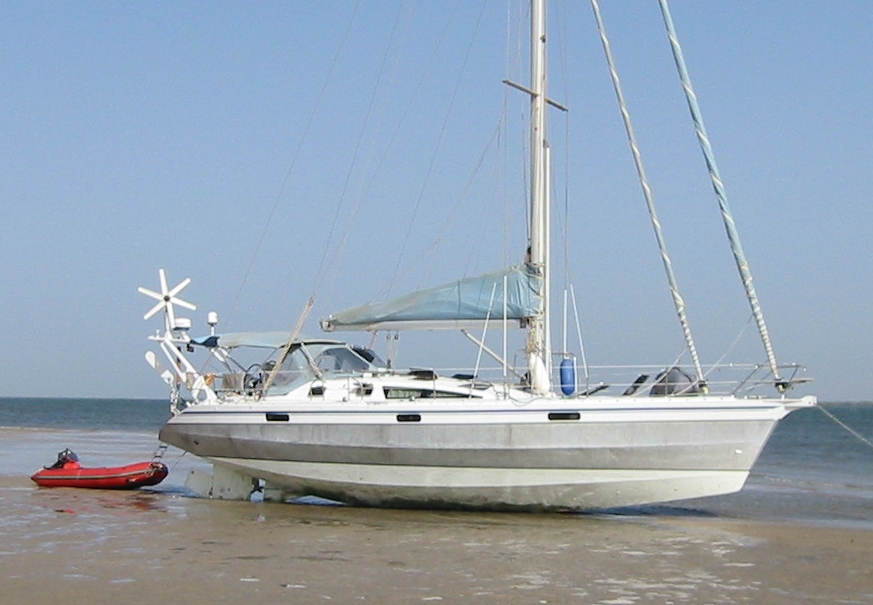 An OVNI 435: An example of an offshore-capable, fast cruiser we couldn't afford, but I'm OK with that.
I find that it's best to work with percentages, as does
Beth Leonard
in her
excellent and recommended Voyager's Handbook
. Rule of thumb: Buy the boat for X dollars, and budget a refit for X/2 with a 10% surplus for toys or upgrades that may prove persuasively desirable during the process of refitting.
Like an Admiralty Pilot for your budgeting
So far, we are on track.
While my numbers do not include the cost of belonging to a yacht club, the cost of insurance, the cost of many tool purchases, and some of the raw materials, nor does it include the profit made from selling unwanted tanks, the old engine, the Mercury that came with the boat, and so on.
For new or inattentive/senile readers, I've replaced a Westerbeke
W-52 with a Beta 60 in my steel boat, and am nearly finished (which is good as I launch at the end of April, 2013).
There have been a lot of variables, but the "hard numbers" include the purchase of a new engine with some custom accesorizing at about $11K. I've popped for various steel fabrications, a new Variprop, a new Aquamet 22 prop, a new AquaDrive CV, new adapter plates, a new PSS, a Shaft Shark, yada, yada, yada. I'm also paying a friend whose done this job before to help out, and it's saved me time in figuring out the process and in getting it right on the first try.
Allied expenses include the changes to the fuel system, the purchases of a FilterBoss and the loads of labour/time involved, including the construction of an in-pilothouse engine gantry/chain fall to make "flying" the engine a one-hander job, and loads and loads of research, which has never really slackened. Some might (and have) suggested I could have done less reading and more doing over the refit process, but we all have our ways of learning, and this has worked for me. I see very experienced sailors making what I consider to be basic errors in seamanship or maintenance frequently, and have to conclude they've to this point not had such errors round up on them with consequences, and so to each his own. I try to learn from the mistakes of others and consider it seamanlike. Naturally, this is only an ideal: my own screw-ups can only be reduced, never eliminated, the same as everyone reading this.
The "upaid" element also includes soliciting help had to solicit help from other boat club members, from getting technical and fabrication advice to having them act as Polecat operators to hoist old engines out and drop new ones (gently) in, to help level my occasionally sinking cradle and to generally motivate me by constantly asking me when I was 'ever going to launch'. Never underestimate the moral support of those sick of seeing one's boat spending a few seasons in the club parking lot. It's indeed priceless.
If the re-engine process costs me only $22K (or twice the cost of the purchase) from the decision to disconnect a working engine in need of rebuild to the turning of the key on the new engine, I will feel not only fine with things, but as if I got some sort of price break because I did a lot of the work and research myself, and resorted to outside help only when I had researched
enough
to know when to bring in said outside help because it would save time (hiring the friend who had done a very similar steel boat repower with Aquadrive and feathering prop upgrade) or when I lacked the equipment or the skills (big ol' stick welder to affix 1/2-inch steel to the hull) to do it myself. There is also a clear mandate for me to attain a higher degree of self-sufficiency by becoming at least familiar with how everything works, and I can't pretend that has been easy or swift.
I speak from experience (still ongoing) of a years-long refit process, and from not having had, by dint of what I hope is loads of research and a clear evaluation of what I am
really
capable of doing myself, much in the way of bad surprises.
So even if you exhibit a Scottish gene as I do, count on this refit/prep for long-term cruising with a "shore-independent/marina shunning" process as being twice as expensive and take three times as long as you've planned. Unless you refit boats for a living, or care to pay someone to do the whole thing, in which case count on four times the price in half the time.
Naturally, this process does not cover the hundreds of hours I've spent learning how to fix boats, fixing them, discovering I've done it improperly, undoing the mistake and applying rum in the evenings to soothe my nerves. Nor does it cost the money I could have been making (maybe) if I wasn't trying to educate myself or acquiring interesting burns and cuts with the applications side.
It doesn't include airfare, the cost of PLBs, foulies, tethers and related gear to faciliate a few crewing opportunities my wife and I have taken. It doesn't include four summers in which our kid took sailing and swimming lessons. But it also doesn't include a tally of the savings I have found by doing a lot of work myself, by shopping as if I personafied Scottish thrift, by resisting most toys and going for not only a mechanically and electrically simple, but robust, boat, but also by avoiding most places where my fellow sailors shop, and by patronizing the outlets where I can find working fishermen, professional mariners and the products of heavy industry, not West Marine and, where possible, not China. (This is not a knock against China, but I have little confidence that the lowest bidder model of manufacturing is capable of maintaining the level of quality I require and expect, and I see zero evidence to persuade me otherwise.)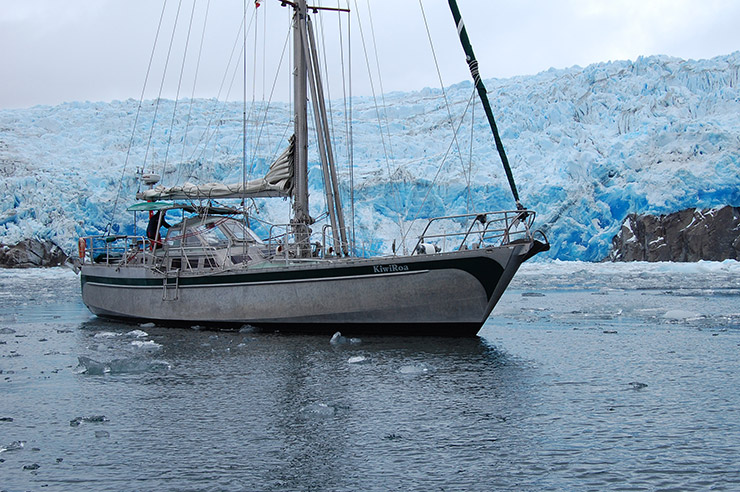 Peter "Rocna" Smith's Kiwi Roa is a particular inspiration.
Currently, I estimate I will end up spending about $75-$85K on my refit, or about half what I paid for
Alchemy
in 2006. This includes a full repower (new diesel with custom features); new prop shaft; new Shaft Shark; new Aquadrive; new (likely Vetus, possibly Centek) waterlift and associated exhaust system and seacocks; windvane; hydraulic AP; new feathering prop; new windlass; new water tanks; upgraded portlights; replaced gasketing; work needed to isolate the pilothouse roof from the steel hull; a helm seat capable of serving co-skippers a foot apart in height; a fair bit of custom welding and fabrication of metal pieces beyond my capacity; solar and wind generation; a solar panel arch; a new heavy-duty companionway door; a small watermaker; an used Portabote and a new nesting, sailing tender; various bilge pumps; galley pumps and loads of hose, clamps, wire, crimps, heat shrink, circuit breakers and specialty tools (like a prop puller); and about half a ton of Trojans I have yet to buy, and that's just the main stuff.
Multiply as required, and yes, they are required
We aren't even on deck yet.
I need a new main, a cruising genoa, a reefable staysail, new standing and running rigging, a radar, an AIS, and a new sounder. And probably a new, beefier ground tackle set-up, and loads of little cosmetic stowing, plumbing and wiring changes, which I will do.
The bad news is that yes, this is as expensive and is significantly more complex as renovating an old house and it's taking a lot longer, mostly because the lead contractor chased skirt in high school instead of taking Industrial Arts. The good news is that it would take twice or three times as much as we are spending (and have spent to date) to create a boat as capable, in my view, of world cruising, including high latitudes. More good news is revealed in that one inevitably learns a lot about a number of trades, even if one doesn't remotely master them. This serves the aspiring crew well down the road, and preserves them in part from being the patsy of shady contractors.
We are keeping the existing steering, winches (adding a used pair of biggish Lewmars rehabbed by me, however) and the Lavac head that convinced my wife
Alchemy
was a sound vessel in the first place. The biggest structural change will likely be the hatch I am cutting into the upper half of the forward collision bulkhead to gain egress into the forepeak workshop without having to go on deck.
The other good news is that most of the enhancements we are making to a boat that, after all, was quite capable of sailing when we bought it, are geared toward the aforementioned independence from shore, and at least the illusion of self-sufficiency, and a better record of diesel-burning avoidance than average. We have a pretty specific set of priorities in this respect. We intend to sail lightly over the sea, despite doing so in a 16 tonner, and that means expense and planning others might not find worth the time, desirable or meaningful.
Our point, which I suspect we have in common with most boat refitters/finishers/restorers and builders, is that doing all this work oneself gives one an intimate knowledge of every aspect of the boat's construction, which, one hopes, inspires confidence and defers worry for more important things, like catching fish for dinner and devising new sundowner recipes. And that is something worth tallying.